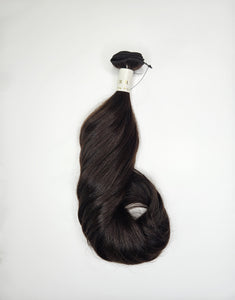 It's a mix between our darkest brown (Natural) and our dark brown (#4), is a perfect match for those that have a hair that is right between these colors. 
The R Hair Extensions Machine Wefts are 100% high-quality shed-free human hair.

Very thin and comfortable.
Each package comes with 100 grams and it can be cut into different sizes according to your need
This method is multi-functional, it can be sew-in or applied with microbeads.
Our recommendation for the number of packages is based on your needs:
1 pack = just volume
2  packs = length + volume
3 + packs = length + volume for those with higher hair density ( if you want to apply all the way to the top part of the head). 
The cover picture contains 2 packages.